About Us
When you come to Bozcaada and seat in a Tea Garden, some unusual guest will come to your table. These guests, interested into bread, pastries and sandwiches have fascinating blue eyes. Our name comes from one of the island's oldest inhabitants, these blue eyed crows; Mavi Karga, in Turkish, means Blue Crow.
Coming and living in Bozcaada for a long time, Ayşen-Deniz Erduran and Semra-Mustafa Tamyürek families hope you will enjoy to share their dream. Mavi Karga Vineyard Houses have been specially prepared for people wanting to smell the Thyme perfumed Bozcaada air, cristal clear sea, historical culture, unique grapes, delicious wines and its peace.
Mavi Karga Vineyard Houses hosts two independant one story buildings, with eight suites for two, three or four guests. Those suites, that we named after bird names, as Baykuş, Anka, Serçe, Kırlangıç, Ardıç, Martı, Kumru and Vadi include two rooms for the first four ones, one room for the other. At Mavi Karga Vineyard Houses, you will find services and equipments like internet, air conditioned, fridge, fully equiped kitchen, parking, and central heating for winter.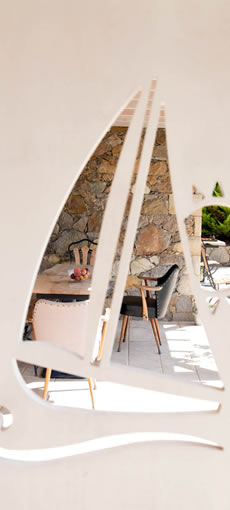 We are located in the Tuzburnu district, about 2km from the city center, where the ships coming from the Çanakkale Pass flow quietly over the sea with the songs of birds in the background.
At the opposite shore, the Geyikli shore and the Goose Mountains join the sea and offer a magnificent panoramic landscape. In this lovely place, Mavi Karga Vineyard Houses is located on a 10 thousand sqm area planted with olives, pines, pomegranate, fig, pepper, dafni, eucalyptus, lemon and almond trees and we added a large grass area and walking paths so that you can walk and rest.
In the morning, begin your day at our open buffet breakfast, that we prepare with home made jams, seasonal fruits, local traditional cheeses and olives, eggs from our free range chickens, tomatoes, peppers, mint, parsley and cuncumbers from our yard, pastries and cakes from our kitchen, and tea and coffee.
Mavi Karga Vineyard Houses offers a peaceful and pleasant holiday for people who love Bozcaada or wish to discover the island.